"It's been a struggle for me because I had a chance to be white and refused." —Richard Pryor
From Algonquin Books: Richard Pryor was arguably the single most influential performer of the second half of the twentieth century,and certainly he was the most successful black actor/comedian ever. Controversial and somewhat enigmatic in his lifetime, Pryor's performances opened up a new world of possibilities, merging fantasy with angry reality in a way that wasn't just new—it was heretofore unthinkable.
"It's so much easier for me to talk about my life in front of two thousand people than it is one-to-one. I'm a real defensive person, because if you were sensitive in my neighborhood, you were something to eat," Pryor said.
His childhood in Peoria, Illinois, was spent just trying to survive. Yet the culture into which Richard Pryor was born—his mother was a prostitute; his grandmother ran the brothel—helped him evolve into one of the most  innovative and outspoken performers ever, a man who attracted admiration and anger in equal parts. Both a brilliant comedian and a very astute judge of what he could get away with, Pryor was always pushing the envelope, combining anger and pathos, outrage and humor, into an art form, laying the groundwork for the generations of comedians who followed, including such outstanding performers as Eddie Murphy, Chris Rock, and Louis C.K.
Now, in this groundbreaking and revelatory work, brothers David Henry and Joe Henry bring him to life both as a man and as an artist, providing an in-depth appreciation of his talent and his lasting influence, as well as an insightful examination of the world he lived in and the influences that shaped both his persona and his art.
Read globally about Richard Pryor but buy Furious Cool in your local indie SIBA-member bookstore and keep more revenue in your community.
Comments Off

on Furious Cool – Richard Pryor and the World That Made Him
The Crime Writers' Association (United Kingdom) is celebrating its sixtieth anniversary this year. That's sixty years of support, promotion and celebration of this most durable, adaptable and successful of genres.
The CWA  runs the prestigious Dagger Awards, which celebrate the best in crime writing. The Gold Dagger is awarded for any novel that is felt to represent the best of the genre. Then there is the John Creasey (New Blood) Dagger for first novels, the Ian Fleming Steel Dagger for thrillers, the International Dagger for translated works, the Ellis Peters Historical Dagger for historical mysteries, the Non_Fiction Dagger, the Dagger in the Library – the library readers' choice – and finally the Short Story Dagger, which acknowledges the best in short fiction.
The Diamond Dagger is awarded for sustained excellence in crime writing and for having made a significant contribution to crime fiction. It is nominated and voted for exclusively by members of the CWA.
For over a decade, the CWA has been encouraging new writing with the Debut Dagger competition. Unpublished writers can enter the competition by submitting the opening chapters and synopsis of a proposed crime novel. The submissions are judged by a panel of top crime editors and agents, and the short-listed entries are offered to publishers and agents who specialize in the crime genre. Publication isn't guaranteed, but to date, sixteen winners or short-listed entrants have been published as a result of this award, and some have gone on to win further awards for their work.
The CWA 60th Anniversary Best Ever Poll to determine the Best Ever author, novel and series as voted for by members of the CWA. This has been covered fairly extensively now and been the subject of some very interesting discussions but, for those who haven't yet seen the results, they were as follows:

Best Ever Novel: The Murder of Roger Ackroyd,  Agatha Christie

Best Ever Series: Sherlock Holmes, Sir Arthur Conan Doyle
Best Ever Author: Agatha Christie
Read mysteries globally but buy from your local indie SIBA-member bookstore and keep more revenue in your community.
Comments Off

on The Crime Writers Association Celebrates 60 Years & Best Ever Author, Agatha Christie
Thor: The Dark World – Marvel's Thor: The Dark World continues the big-screen adventures of Thor (Chris Hemsworth), the Mighty Avenger, as he battles to save Earth and all the Nine Realms from a shadowy enemy that predates the universe itself. In the aftermath of Marvel's Thor and Marvel's The Avengers, Thor fights to restore order across the cosmos…but an ancient race led by the vengeful Malekith returns to plunge the universe back into darkness. Faced with an enemy that even Odin and Asgard cannot withstand, Thor must embark on his most perilous and personal journey yet, one that will reunite him with Jane Foster (Natalie Portman) and force him to sacrifice everything to save us all.

Great Expectations – Orphan Pip (Jeremy Irvine) rises from humble beginnings thanks to a mysterious benefactor. Moving through London's class-ridden world as a gentleman, Pip uses his new status to pursue Estella (Holliday Grainger), a beautiful, heartless heiress he's always loved. The shocking truth behind his fortune will have devastating consequences for everything he holds dear. Also starring Ralph Fiennes, Helena Bonham Carter, and Robbie Coltrane. The Washington Post gives it a great review and says, in part: In a bit of brilliant casting, Pip is first played, as a boy, by Toby Irvine, and later, as a young man, by that actor's older brother, Jeremy Irvine. Not only is the resemblance striking between these two young Brits, but each can really act. 
Best Man Down – The best man at Scott (Justin Long) and Kristin's (Jess Weixler) Arizona destination wedding, Lumpy (Tyler Labine) is the life of the party, until a long, indulgent night leads to his untimely death. Forced to cancel their honeymoon and fly back to Minneapolis to arrange for his funeral, Scott and Kristin meet Ramsey (Addison Timlin) and learn that Lumpy isn't quite who they thought he was.
Ass Backwards – Kate (June Diane Raphael) and Chloe (Casey Wilson) are two childhood best friends who met when they placed dead last in their hometown beauty pageant. Now they are all grown up and living in New York City, where Chloe works as a "girl in a box" at a nightclub and Kate is a CEO….of her own one-woman egg donor "corporation". Lost in delusion, they believe they are living large until an invitation to their hometown pageant arrives and their past comes back to haunt them. Join these two loveable losers as they take an ass backwards journey home to reclaim their crown, stopping off at a women's separatist commune, an amateur strip club competition, and meeting their favorite reality TV star along the way. Also starring Alicia Silverstone, Jon Cryer, and Vincent D'Onofrio.

How I Live Now – Daisy (Saoirse Ronan), a teenager from New York, is sent to the English countryside for the summer to stay with cousins. She soon immerses herself in a dreamy pastoral idyll as she falls madly in love with Eddie (George McKay), until their perfect summer is blown apart by the sudden outbreak of a 21st century world war. Along with Eddie's younger siblings, Isaac (Tom Holland) and Piper (Harley Bird), they are left in isolation and forced to fend for themselves. When they are violently separated Daisy must embark on a terrifying journey in order to be reunited with the boy she loves. Eddie is never far from Daisy's mind but as her journey to find him becomes more desperate, the idea of what she may or may not find consumes her consciousness and haunts her soul. Based on the debut novel by Meg Rosoff.
The Armstrong Lie – A documentary chronicling sports legend Lance Armstrong's improbable rise and ultimate fall from grace.
Watch movies globally but buy the DVDs and the books they are based on at your local indie SIBA-member bookstore and keep more revenue in your community.
Comments Off

on November 8, 2013 Movie Releases
What a line-up of movies released on Friday, November 1, 2013!

Ender's Game – based on the novels (Ender's Game and Ender's Shadow) by Orson Scott Card – In the near future, a hostile alien race (called the Formics) have attacked Earth. If not for the legendary heroics of International Fleet Commander, Mazer Rackham (Ben Kingsley), all would have been lost. In preparation for the next attack, the highly esteemed Colonel Graff (Harrison Ford) and the International Military are training only the best young children to find the future Mazer. Ender Wiggin (Asa Butterfield), a shy, but strategically brilliant boy is pulled out of his school to join the elite.  Also starring Hailee Steinfeld as Petra Arkanian and Abigail Breslin as Valentine Wiggin. Directed by Gavin Hood (Rendition, X-Men Origins: Wolverine).
Free Birds – Reggie (voiced by Owen Wilson) was an ordinary turkey, until one Thanksgiving he was pardoned by the President. Unaware of the fate he's escaped, Reggie is living large and enjoying the good life at Camp David. But when Reggie is kidnapped by Jake (voiced by Woody Harrelson), the rebel leader of a turkey uprising, he discovers a horrifying secret: Turkeys aren't honored holiday guests- they're tasty holiday meals! Jake and Reggie hijack a top secret time machine and travel back in time to 1621, to the first Thanksgiving to take themselves off the menu.
About Time – The night after another unsatisfactory New Year party, Tim's father (Bill Nighy) tells his son that the men in his family have always had the ability to travel through time. Tim (Domnhall Gleeson)can't change history, but he can change what happens and has happened in his own life—so he decides to make his world a better place…by getting a girlfriend. Sadly, that turns out not to be as easy as you might think.
The Dallas Buyers Club – In 1986, Ron Woodroof (Matthew McConaughey), a tough Texas electrician, is diagnosed with AIDS and is given six months to live. Frustrated with the lack of available medical options and unwilling to accept a death sentence, Woodroof finds a lifeline using alternative drugs and creates a lucrative smuggling business that makes the drugs available to AIDS patients. Also starring Jennifer Garner, Jared Leto and Steve Zahn. There is Oscar buzz around the movie and performances, especially McConaughey and Leto.
A Perfect Man – On the cusp of their ninth anniversary, James (Liev Schreiber) and Nina (Jeanne Tripplehorn) seem to have the perfect marriage and ideal lives – an affluent life in Amsterdam, lucrative jobs and adoring friends. Yet when Nina discovers James's infidelity with a mutual friend of theirs after a long line of extramarital affairs, it's the final straw, shattering whatever illusions they've created about their relationship and leaving them separated. Heartbroken about their separation, a stroke of luck leads Nina to impersonate James's chatty travel agent on the phone, and he's soon pouring his heart out and unwittingly falling for his wife all over again as they discuss the uncertainty of love and the eternal misunderstanding between men and women.
Mr. Nobody (originally released in Europe in 2009) -The film tells the life story of Nemo Nobody (Jared Leto), a 118 year-old man who is the last mortal on Earth after the human race has achieved quasi-immortality. Nemo, memory fading, refers to his three main loves and to his parent's divorce and subsequent hardships endured at three main moments in his life; him at age nine, fifteen and thirty-four. Nemo tells the story including alternate life paths, often changing course with the flick of a decision at each of those ages. Also starring Diane Kruger, Sarah Polley, Rhys Ifans.
Angels Sing  – Harry Connick, Jr. stars as Michael Walker, who, as a child, wished every day was Christmas. That is, until a tragic accident crushed his holiday spirit. Thirty years later, Michael still can't muster any joy for Christmas, despite encouragement from his playful wife (Connie Britton – Friday Night Lights, Nashville). Also starring Kris Kristofferson, Chandler Canterbury, Willie Nelson.
Diana  – The film takes audiences into the private realm of one the world's most iconic and inescapably public women — the Princess of Wales, Diana (Naomi Watts) — in the last two years of her meteoric life. On the occasion of the 16th anniversary of her sudden death, director Oliver Hirschbiegel explores Diana's final rite of passage: a secret love affair with Pakistani heart surgeon Hasnat Khan (Naveen Andrews), the human complications of which reveal the Princess's climactic days in a compelling new light.
Big Sur – Tells the story of Jack Kerouac (Jean-Marc Barr) following his sudden literary success ("On the Road" was released in 1957) and his troubles with substance abuse. Also starring Josh Lucas and Kate Bosworth.
Sal – In the 1950's, actor Sal Mineo (Val Lauren) rises to fame in such films as Rebel Without a Cause and Exodus, has conflicts with his sexuality, friendships with James Dean and Natalie Wood, and is eventually murdered at the age of 37 by a pizza delivery man. Written, directed, and produced by James Franco.
Watch movies globally but buy (if available) from your local indie SIBA-member bookstore and keep more revenue in your community.
Comments Off

on Friday, November 1, 2013 Movie Releases
RatPac Press, a new joint venture from Hollywood director Brett Ratner and Running Press, is launching with its first title: Ben Mezrich's novel, Seven Wonders. The book, an adventure tale tied to the Seven Wonders of the World, is set for a spring 2014 publication, and has already been optioned for film by 20th Century Fox and Ratner's production company, RatPac Entertainment; the film is planned to be a summer action film anchoring a trilogy. Overall, RatPac Press will look to release titles ideal for Hollywood adaptation.
Seven Wonders is a globe-trotting thriller rife with historic secrets, conspiracies, intrigue, and a whole lot of adventure. When the shy mathematician Jeremy Grady is murdered, it's up to his estranged brother Jack to find out why. His search leads him on a far-flung journey —from China to Peru; Egypt to Brazil— as he unravels the mystery that links the Seven Wonders of the World, and discovers that Jeremy may have hit upon something that has been concealed for centuries. With the help of geneticist Andrea Costa, they discover a conspiracy to hide a roadmap to the Garden of Eden —and the truth behind a mythological ancient culture. Book one in a trilogy.
Mezrich is known for his non-fiction bestsellers  Accidental Billionaires:The Founding of Facebook, a Tale of Sex, Money, Genius and Betrayal and Bringing Down the House: The Inside Story of Six M.I.T. Students Who Took Vegas for Millions. Both books have been made into movies, The Social Network and 21, respectively. Mezrich has also written 26 other books of both fiction and non-fiction.
Read Mezrich globally but buy his books from your local indie SIBA-member bookstore and keep more revenue in your community.
Comments Off

on Ben Mezrich's Novel, Seven Wonders, Getting Hollywood Treatment
Christmas Bliss – Mary Kay Andrews
A Nantucket Christmas – Nancy Thayer
Starry Night – Debbie Macomber
Christmas on Main Street – JoAnn Ross, Susan Donovan, LuAnn McLane, Alexis Morgan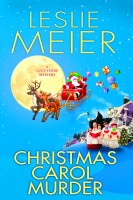 Christmas Carol Murder (A Lucy Stone Mystery) – Leslie Meier

Christmas Mouse – Anne Mortimer
 Pete the Cat Saves Christmas – Eric Litwin and James Dean
The Polar Express – Chris Van Allsburg
Llama Llama Holiday Drama – Anna Dewdney
Read Christmas books globally but buy from your local indie SIBA-member bookstore and keep more revenue in your community.
Comments Off

on Christmas Themed Books
Thomas H. Cook is the Edgar Award-winning author (The Chatham School Affair) of more than 30 fiction and non-fiction books. His latest novel, Sandrine's Case, has received positive reviews. In an article in Publisher's Weekly, he lists his favorite mystery novels.
1. The Woman in White – Wilkie Collins – This is still a wonderfully mysterious novel. It is large and sweeping, with skillfully drawn characters, lovely passages and absolutely haunting scenes, a fully formed 19th century novel with all the trimmings. The story is complicated, but it was originally written in serial form, so the story moves forward in carefully measured steps. Much of what became standard in crime fiction was first done here, so it is not only an engaging read, but a fundamentally instructive one.
2. A Crime in the Neighborhood – Suzanne Berne – I have recommended this book many times to all kinds of readers. For me, it is a novel that uses suspense in the best possible way, not by having a character confront one contrived obstacle after another in a mindless stream of action, but by creating an atmosphere of deep moral peril in which the culminating tragedy seems as inevitable as it is, well…tragic. It is also one of those books in which the title become completely apt, and very moving, after one has completed the book. In this case, the "crime in the neighborhood" turns out to be far more profound and long lasting than any single act of violence could be.
3. A Dark Adapted-Eye – Ruth Rendell (writing as Barbara Vine) – I confess that this is one of the most beautiful titles in mystery fiction. The good news is that the book lives up to the title. It is intricate, with genuinely surprising revelations, and the depth of the characterizations makes a major contribution to the novel's suspense. This is psychological suspense for adults, with real people confronting real, and very dark problems.
7. A Simple Plan – Scott Smith – In this wholly realistic novel, two brothers and a friend come upon a crashed plane in whose shattered ruins they find an enormous sum of money. Before that moment, none of these men has ever needed to concoct a simple plan to keep and conceal a fortune that quite obviously does not belong them. In the midst of doing just that, they become criminals, as well as victims of crime. The story builds steadily as the wages of sin become more and more costly. Here is a classic cautionary tale about the penalty dishonesty may exact upon ordinary, and largely innocent, human beings. (A Simple Plan was made into a movie in 1998 starring Bill Paxton and Billy Bob Thornton.)
Read his other recommendations in the PW article.
Read Thomas H. Cook novels globally but buy from your local indie SIBA-member bookstore and keep more revenue in your community.
Comments Off

on Thomas H. Cook Names His 10 Best Mystery Books
Kelly Justice of The Fountain Bookstore in Richmond VA sent her fellow SIBA-member bookstores a letter in support of Danny Ellis and his book,  The Boy at the Gate: A Memoir.

In part, she says:
This is a very special book.  Danny spent part of his childhood 50 years ago in Ireland's most notorious orphanage: the Dublin Industrial School.  I think many people are kind of pigeon-holing this book as "oh-Angelas-Ashes-type-whoop-dee-do-over-it.  I know what you're thinking: "my customers don't want that depressing stuff right now."  "Go away, Kelly."  
And that's where I want you to listen for just a bit longer.  
This book is something different.
Yes, it's a sad story in parts, but it is also tremendously funny, soul-lifting, full of the joys that children manage to find everywhere even in the worst circumstances.  
It will make your heart jump for the sky.  
The Tender Bar (memoir by J.R. Moehringer) meets the healing powers of love and music would be an apt description if you want a comp, but this is an original work.  It's not just a memoir.  It's a book about writing a memoir too.  Are you starting to see the potential?
It's a book for readers who love any of the below:
music
books about writing
inspirational stories
Irish stuff
moving memoir
contemporary history
funny stories
book clubby stuff
all of the above
Read globally but buy this book from your local indie SIBA-member bookstore and keep more revenue in your community. And, then thank Kelly for recommending it!
Comments Off

on SIBA Bookseller Sells Us On This Title!
There are some BIG movies coming in October (prelude to Oscar nominations, I'm sure!):
Gravity (released Oct 4) – George Clooney and Sandra Bullock star in this space-voyage film directed by Alfonso Cuaron – there has been lots of hype for this one, including Oscar talk for Clooney, Bullock, and Cuaron.  Dr. Ryan Stone (Sandra Bullock) is a brilliant medical engineer on her first shuttle mission, with veteran astronaut Matt Kowalsky (George Clooney) in command of his last flight before retiring. But on a seemingly routine spacewalk, disaster strikes. The shuttle is destroyed, leaving Stone and Kowalsky completely alone–tethered to nothing but each other and spiraling out into the blackness. The deafening silence tells them they have lost any link to Earth…and any chance for rescue. As fear turns to panic, every gulp of air eats away at what little oxygen is left. But the only way home may be to go further out into the terrifying expanse of space.
Runner Runner (released Oct 4) – Princeton grad student Richie (Justin Timberlake), believing he's been swindled, travels to Costa Rica to confront online gambling tycoon Ivan Block (Ben Affleck). Richie is seduced by Block's promise of immense wealth, until he learns the disturbing truth about his benefactor. When the FBI tries to coerce Richie to help bring down Block, Richie faces his biggest gamble ever: attempting to outmaneuver the two forces closing in on him.
Parkland (released Oct 4) – Recounting the chaotic events that occurred in Dallas, Texas on November 22, 1963, Parkland weaves together the perspectives of a handful of ordinary individuals suddenly thrust into extraordinary circumstances: the young doctors and nurses at Parkland Hospital (Zac Efron, Marcia Gay Harden); Dallas' chief of the Secret Service; an unwitting cameraman (Paul Giamatti as Abraham Zapruder) who captured what became the most watched and examined film in history; the FBI agents who nearly had the gunman within their grasp; the brother (James Badge Dale) of Lee Harvey Oswald (Jeremy Strong), left to deal with his shattered family; and JFK's security team, witnesses to both the president's death and Vice President Lyndon Johnson's (Sean McGraw) rise to power over a nation whose innocence was forever altered. First time director is Peter Landesman, who co-wrote the script from the book, Parkland (originally titled Four Days in November: The Assasination of President John F. Kennedy), with the book's author, Vincent Bugliosi.
All Is Bright (released Oct 4) – Two French Canadian ne'er-do-wells travel to New York City with a scheme to get rich quick selling Christmas trees. Easygoing charmer Rene (Paul Rudd) clashes with misanthropic ex-con Dennis (Paul Giamatti), whose wife Rene just stole. Still, this odd couple must make an honest go of it.
Romeo and Juliet (releases Oct 11) – Another take on the Shakespeare classic with the script written by Julian Fellowes (Downton Abbey) and directed by Carlos Carlei.  Hailee Steinfeld stars as Juliet and Douglas Booth plays the star-crossed Romeo. Holly Hunter plays The Nurse (yeah!).
Captain Phillips (releases Oct 11) -Follows the true story of Captain Richard Phillips (Tom Hanks) and the 2009 hijacking by Somali pirates of the US-flagged MV Maersk Alabama, the first American cargo ship to be hijacked in two hundred years. Based upon the book A Captain's Duty: Somali Pirates, Navy SEALs, and Dangerous Days at Sea by Richard Phillips and Stephan Talty.
Machete Kills (releases Oct 11) – The second film in the Machete Trilogy finds Machete (Danny Trejo) recruited by the US Government for a mission which would be impossible for any mortal man. Machete must battle his way through Mexico to take down a madman cartel leader and an eccentric billionaire arms dealer who has hatched a plan to spread war across the planet with a weapon in space. Machete takes on an army in an effort to dismantle a plan for global anarchy. To understand how wild these movies are, Charlie Sheen plays the President!
All The Boys Love Mandy Lane (releases Oct 11) – A teen movie, full of sex, liquor, and dying!  The story follows a group of high-schoolers who invite Mandy Lane (Amber Heard), "a good girl" who becomes the object of everyone's affection after returning from summer break, to a weekend party on a secluded ranch. While the festivities rage on, the number of revelers begins to mysteriously drop one at a time.
Carrie (releases Oct 18) – A remake of the 1976 movie that was made based on Stephen King's novel. A reimagining of the classic horror tale about Carrie White (Chloë Grace Moretz), a shy girl outcast by her peers and sheltered by her deeply religious mother (Julianne Moore), who unleashes telekinetic terror on her small town after being pushed too far at her senior prom.
The Fifth Estate (releases Oct 18) – Following Daniel Domscheit-Berg (Daniel Brühl), an early supporter and eventual colleague of Julian Assange (Benedict Cumberbatch of Sherlock, Star Trek Into Darkness fame), The Fifth Estate traces the heady, early days of WikiLeaks, culminating in the release of a series of controversial and history changing information leaks. The website's overnight success brought instant fame to its principal architects and transformed the flow of information to news media and the world at large.
All Is Lost (releases Oct 18) – Deep into a solo voyage in the Indian Ocean, an unnamed man (Robert Redford) wakes to find his 39-foot yacht taking on water after a collision with a shipping container left floating on the high seas. With his navigation equipment and radio disabled, the man sails unknowingly into the path of a violent storm. Redford is the only person in the film!
12 Years a Slave (releases Oct 18) – In the pre-Civil War United States, Solomon Northup (Chiwetel Ejiofor), a free black man from upstate New York, is abducted and sold into slavery. Facing cruelty (personified by a malevolent slave owner, portrayed by Michael Fassbender), as well as unexpected kindnesses, Solomon struggles not only to stay alive, but to retain his dignity. In the twelfth year of his unforgettable odyssey, Solomon's chance meeting with a Canadian abolitionist (Brad Pitt) will forever alter his life.
Kill Your Darlings (releases Oct 18) – Tells the story of how the murder of David Kammerer (Michael C. Hall) by Lucien Carr (Dane DeHaan) at Columbia University in 1944 brought together the writers Allen Ginsberg (Daniel Radcliffe), Jack Kerouac (Jack Huston of the movie-making Hustons) and William Burroughs (Ben Foster), who would spark the Beat Revolution. Also starring Elizabeth Olsen, Jennifer Jason Leigh, and Kyra Sedgwick. This one is huge!
The Counselor (releases Oct 25) – Set in the Southwest, a respected lawyer (Michael Fassbender) thinks he can dip a toe into the drug business without getting sucked down. It is a bad decision and he tries his best to survive it and get out of a desperate situation!!! Also starring Brad Pitt, Cameron Diaz, Javier Bardem, Penelope Cruz, and John Leguizamo!! Another huge cast! Written by Cormac McCarthy (The Road, All The Pretty Horses)!! Directed by Ridley Scott! (A movie this big needs lots of exclamation points!!!)
Watch movies globally but buy the books on which they are based from your local indie SIBA-member bookstore and keep more revenue in your community.
Comments Off

on 2013 Fall Movies – October Releases
To mark the 50th Anniversary, Penguin has released a beautiful special edition featuring archival material and a special cover design for The Spy Who Came In From The Cold.
In le Carré's breakthrough work of 1963, the spy story is reborn as a gritty and terrible tale of men who are caught up in politics beyond their imagining. It is 1962: the height of the Cold War and only months after the building of the Berlin Wall. Alex Leamas is a hard-working, hard-drinking British intelligence officer whose East Berlin network is in tatters. His agents are either on the run or dead, victims of the ruthlessly efficient East German counter-intelligence officer Hans-Dieter Mundt.
Leamas is recalled to London – where, to his surprise, he's offered a chance at revenge. But to get it, he may have to stay out in the cold a little longer.
"The best spy story I have ever read, " said Graham Greene, himself a prolific writer of both literary and suspense novels, and an agent for Britain's MI6.

This 50th anniversary special edition features a wealth of original archival material, much of it from le Carré's own files, and from the making of the original 1965 film adaptation. The film starred Richard Burton as Leamas, Oskar Werner as Fiedler, Claire Bloom as Nan Perry, and Peter van Eyck as Hans-Dieter Mundt.
Greene died in 1991.
Read spy thrillers globally but buy them from your local indie SIBA-member bookstore and keep more revenue in your community.
Comments Off

on Penguin Releases 50th Anniversary Issue of The Spy Who Came in From the Cold