Posts Tagged 'Mystery Series'
There are so many Spring 2012 YA and Children's fiction/non-fiction being released that I have just highlighted a few of them. The entire list can be seen at Publisher's Weekly.
Children's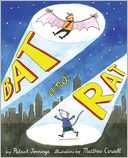 Bat and Rat by Patrick Jennings about two animal pals who go out for ice cream one hot summer night
Huff and Puff by Claudia Rueda, an interactive retelling of the Three Little Pigs
The Baby That Roared by Simon Puttock: Mr and Mrs Deer would love a baby, and one day they find a little antlered bundle on the doorstep. Mrs Deer thinks their wish has come true, but Mr Deer things that the baby is very, very peculiar. Soon they realise it isn't a baby after all, it's a little monster!
The Pirates Next Door by Jonny Duddle, a picture book about the Jolley-Rogers, who move into the quiet shore town of Dull-on-Sea
YA
Pretty Crooked by Elisa Ludwig, in which a teen girl plays at being Robin Hood, stealing from rich and popular girls at school to give to the less fortunate ones
Croak by Gina Dormico, first in a series about a girl who joins the family business as a grim reaper
Radiate by Marley Gibson, a novel in which Hayley draws strength from cheerleading as she fights cancer
His Fair Assassin: Grave Mercy by R.L. LaFevers, first in a YA trilogy about a young assassin in 15th-century France
Last Chance and You Can Run by Norah McClintock, which launch the Robyn Hunter mystery series, starring a Canadian teenage detective with a talent for getting into trouble
The Statistical Probability of Love at First Sight by Jennifer E. Smith, a romantic YA novel that takes place over a 24-hour period
Read globally but buy from your local indie SIBA-member bookstore and keep more revenue in your community.
Dead Man's Switch by  Tammy Kaehler – This is the debut book in the Kate Reilly Racing Mystery series. Aspiring racecar driver Kate Reilly goes looking for a full-time ride in the American Le Mans Series—and stumbles over a dead driver. When she takes that driver's job just hours later, she also takes pole position on the list of suspects in his murder. Suddenly she's in the hot seat with little time to clear her name and get ready to race a Corvette at Lime Rock Park.
All Cry Chaos by Leonard Rosen– An Henri Poincare Mystery.
The action begins when mathematician James Fenster is assassinated on the eve of a long-scheduled speech at a World Trade Organization meeting. The hit is as elegant as it is bizarre. Fenster's Amsterdam hotel room is incinerated, yet the rest of the building remains intact. The murder trail leads veteran Interpol agent Henri Poincaré on a high- stakes, world-crossing quest for answers.
This Dark Endeavor – The Apprenticeship of Victor Frankenstein by Kenneth Oppel.
Soon to be a major motion picture from the producers of Twilight!
The Sandburg Connection A Sam Blackman Mystery by Mark De Castrique – Find this title at Malaprop's Bookstore in Asheville NC. Malaprop's makes a cameo appearance in the book which is set in both Asheville and Flat Rock.
Murder in the 11th House A Starlight Detective Agency Mystery by Mitchell Scott Lewis
The Soldier's Wife by Margaret Leroy
"Leroy's beautifully rendered tale demonstrates how longing for normalcy during wartime can vanquish, even briefly, distrust and uncover common ground. Highly recommended." Library Journal starred review.
Bull Canyon A Boatbuilder, a Writer and other Wildlife by Lin Pardey. This is the story of the four years the couple spent far from the sea, building the boat of their dreams in California's remote Bull Canyon. First there were the rats in the ceiling, then the floods, then the fires, then the visiting cougar … life in Bull Canyon was daunting and dangerous.
Seasoned A Chef's Journey with Her Captain by Victoria Allman
Weird Astronomy Tales of Unusual, Bizarre, and Other Hard to Explain Observations by David A.J. Seargeant
Weird Astronomy will appeal to all who are interested in unusual celestial phenomena, whether they be amateur or professional astronomers or science buffs who just enjoy reading of odd coincidences, unexplained observations, and reports from space probes that "don't quite fit."
Black Swan: A Sam Acquillo Hamptons Mystery by Chris Knopf
Read globally but buy from your local indie SIBA-member bookstore and keep more revenue in your community.
Comments Off

on What I've Been Reading
The Devil's Star by Jo Nesbo is reminiscent of Ian Ranking, Michael Connelly, and Henning Mankell, who writes the Kurt Wallander mystery series. The detective in The Devil's Star, is Harry Hole, a periodic binge drinker, who is opposed to being a team player. Though the most competent detective on the force, Hole's drinking keeps him in trouble with his superiors and in his personal life. There are eight Hole novels in the series, but not all of them have had English translations, yet.
In this novel, several women have been killed. Each one has had a finger cut off and a red star-shaped diamond left somewhere on the body. Harry is put on the case with Tom Waaler, a colleague he neither likes nor trusts. Harry has been investigating Waaler on the side as he believes Waaler is the head of a gun-smuggling operation.
For the most part, the translation to English works. There are a few slang words and some turns of phrase that may sound stilted to American readers.
Nesbo won the Riverton Prize 1997 for Best Norwegian Crime Novel of the Year, The Bat Man, his debut Harry Hole novel. He has also won the 1998 Best Nordic Crime Novel of the Year (The Bat Man), the Norwegian Booksellers' Prize for Best Novel of the Year 2000 (The Redbreast), and The Norwegian Book Club Prize 2008 for Best Novel of the Year (The Snowman), and many other awards for his writing.
Nesbo has written two children's books with the title character of Doktor Proktor and several stand-alone novels. He is also the main vocalist and songwriter for the Norwegian rock band Di Derre.
Read globally but buy from your local indie bookstore and keep more revenue in your community.
Comments Off

on The Devil's Star