Posts Tagged 'Simon Puttock'
There are so many Spring 2012 YA and Children's fiction/non-fiction being released that I have just highlighted a few of them. The entire list can be seen at Publisher's Weekly.
Children's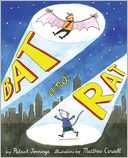 Bat and Rat by Patrick Jennings about two animal pals who go out for ice cream one hot summer night
Huff and Puff by Claudia Rueda, an interactive retelling of the Three Little Pigs
The Baby That Roared by Simon Puttock: Mr and Mrs Deer would love a baby, and one day they find a little antlered bundle on the doorstep. Mrs Deer thinks their wish has come true, but Mr Deer things that the baby is very, very peculiar. Soon they realise it isn't a baby after all, it's a little monster!
The Pirates Next Door by Jonny Duddle, a picture book about the Jolley-Rogers, who move into the quiet shore town of Dull-on-Sea
YA
Pretty Crooked by Elisa Ludwig, in which a teen girl plays at being Robin Hood, stealing from rich and popular girls at school to give to the less fortunate ones
Croak by Gina Dormico, first in a series about a girl who joins the family business as a grim reaper
Radiate by Marley Gibson, a novel in which Hayley draws strength from cheerleading as she fights cancer
His Fair Assassin: Grave Mercy by R.L. LaFevers, first in a YA trilogy about a young assassin in 15th-century France
Last Chance and You Can Run by Norah McClintock, which launch the Robyn Hunter mystery series, starring a Canadian teenage detective with a talent for getting into trouble
The Statistical Probability of Love at First Sight by Jennifer E. Smith, a romantic YA novel that takes place over a 24-hour period
Read globally but buy from your local indie SIBA-member bookstore and keep more revenue in your community.